Our motto at the Honolulu Bulls is "Success is Winning at Life". Today we are proud to feature recent graduate Noa Maeva for his accomplishments on and off the field. Noa is a graduate of Punahou School and is attending Harvard University. Noa has always been a fierce player on the field. His work ethic at practices and in school have always been exceptional. During high school, he played club soccer, school soccer, and participated in ROTC and many community activities. Noa is studying Economics and playing on the A Club soccer team. We salute Noa for his success and winning at life.
When did you join the Bulls?
2014

Why did you choose the Bulls?
I wanted to be a part of the best club on the island.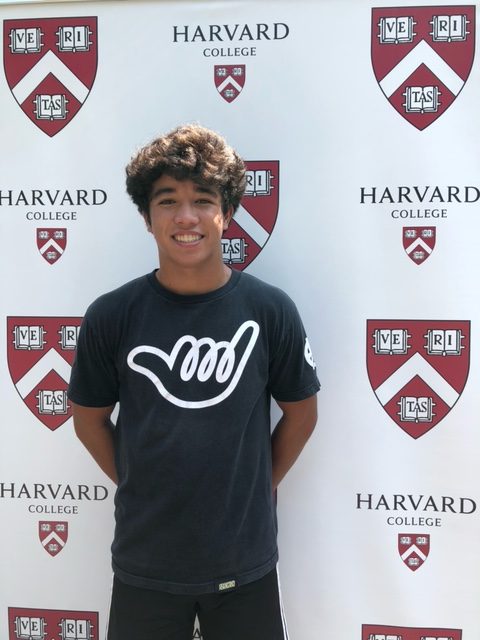 What was your academic path? When did you enter Punahou?
Throughout my academic career, I transferred schools seven times (both private and public) before finally attending Punahou which I entered in 9th grade.

What activities did you participate in outside of soccer and school? The many volunteer projects and travels that you did?
JROTC
Club Soccer
JV and Varsity Soccer
Punahou Outdoor Education Counselor
Student Tutor
Foreign Exchange Ambassador – Ehime, Japan
Punahou Carnival Class Division Head
Work – Worked full time during the summers and part time during the school year
Community Service – Youth Soccer Coaching Aid, Honolulu Marathon Water Station Support,
Beach Cleanups, Adopt-A-Road Cleanups, Homeless Shelter Dinner Service, Mentored
Students from Kaneohe Elementary School, Restored ancient fishpond, Landscaping work at a local kalo farm
Being a part of the Bulls has given me the opportunity to travel internationally (Denmark) and
throughout the U.S. (California, Nevada, Colorado, Idaho, etc).

How did you balance playing soccer, school and extracurricular activities?
To balance everything going on I had to make sure to manage my time accordingly. I also had to make sure I had my priorities set straight.

Did you work during high school?
I worked various on campus jobs during the school year, including the cafeteria, student monitor for the lower school students, and delivered packages throughout campus. I would work full time during the summers at some of these positions.

7)What was your process in applying to colleges? How many did you apply for? What were you looking for?
When choosing which colleges to apply to, I based my decision on location, academic rigor, and the opportunities offered through the school. I applied to 21 different schools-accepted into 16, waitlisted at 4, and rejected at 1.
How did you make your final decision?
It was a difficult decision, but in the end, I chose to attend Harvard University because of the opportunities and academic experiences offered. They have a tremendous support system there as well. Finances also played a very big part in my decision and the university had given me a very generous offering.

Are you going to play soccer? Collegiate or Intramural etc.
I am going to try to walk on to the soccer team. If I am unsuccessful in my attempts, I will continue to play soccer by joining the club team and also play intramural.

Any words of advice for our younger soccer players?
My advice for the younger soccer players is to work hard in all that you do. My friend told me once to "be relentless in your pursuit of what sets your heart on fire" and that has driven me to continue shooting for the stars and putting the utmost effort into everything I do.

Any words from mom and dad?
It has been such an honor and a privilege to be a part of the Bulls Ohana. Nowhere else can you find such supportive coaches, team managers, and parents. We believe it truly takes a village to raise a child and we thank everyone for being a part of Noa's "village."