Bulls Eye shines a light on a current or former player of the Bulls family. This section is meant to make you discover the many unique stories of our members that make the club such a wonderful community. The first edition of Bulls Eye will be focused on: Dominic Gusman
Dominic recently graduated from Punahou, and is now attending Whitworth University as a freshman. Dominic was an integral part of the very successful generation that won multiple State titles, the Surf Cup, and played against some of the best teams in the nation. He did not only demonstrate his talent at the club, but also recently won the All-State Player of the Year for his High School after winning multiple High School State championships.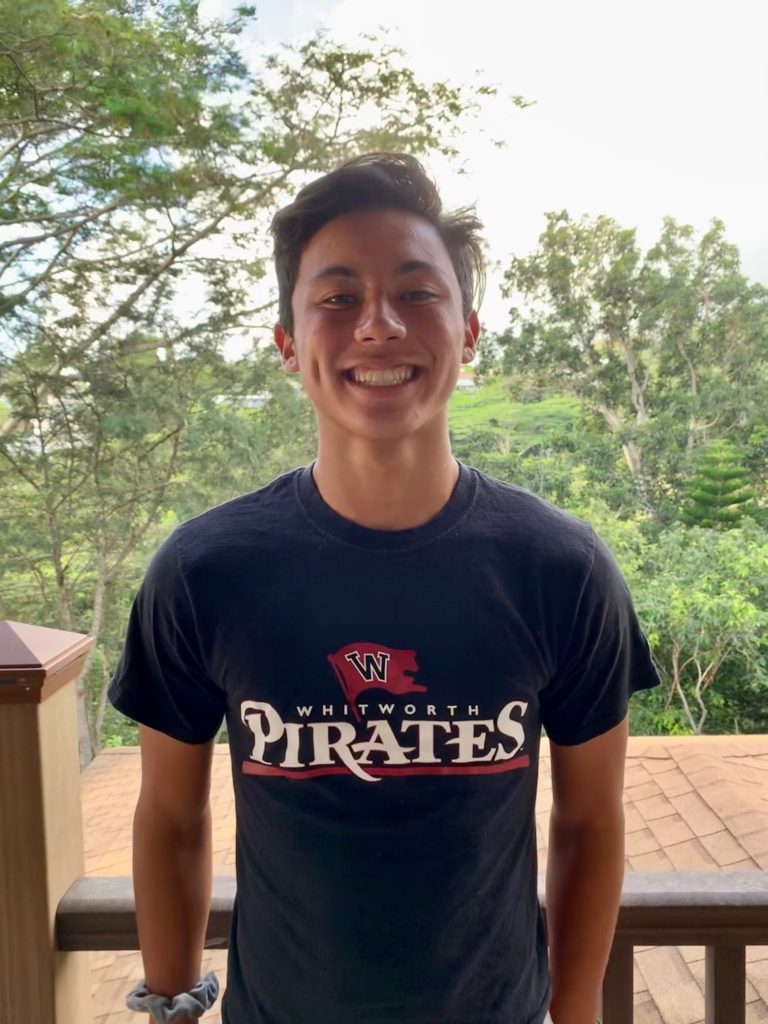 You can watch some of his highlights from this past year: https://www.hudl.com/ video/3/7519126/5d7940802348d80c88973898
Here is what "Dom" had to tell us:
First, tell us about yourself?
My name is Dominic Gusman, and I am 18 years old. I grew up in Aiea with my parents George and Beth, and my older sister Emma and my younger sister Ellie. I attended Punahou School and graduated this past May in 2020. When I first started with the Bulls at 9 years old, I played outside back. Coach Mariano Belen who was my Bulls coach moved me to an attacking position when I was 13 years old and I have played as either a winger or striker since then. I started playing soccer when I was 4 years old, and the main reason was because my sister Emma was playing soccer. My family is big into baseball and softball, so I was also playing baseball at that time, but my parents put me in soccer because Emma was playing. At first, I did not really like soccer as when I started out, I was really small and not very coordinated. I couldn't run five yards without falling and my feet would get tangled when trying to dribble. I was with another club when I first started but after my sister Ellie joined the Bulls, my parents were able to see the training and moved me to the Bulls. When I first joined the Bulls, I was way behind all of my teammates. Despite this, I loved to play the game. No matter how many times I fell or lost the ball, nothing made me happier than playing footy with my friends. Even now, after 14 years of playing soccer, I get the same rush of adrenaline when I step on the field.
What college did you go to, and why?
I am currently attending Whitworth University in Spokane, Washington. When I looked at schools, I had a list of things that were important to me to help me pick a school. My list was whether the school offered my major (engineering), school size (I wanted a smaller school), school location (I wanted a west coast or close to west coast school), and my relationship with the coach and the style of play. I took academic and athletic tours of several schools in Washington, Oregon, and Colorado and decided that Whitworth was the best fit for me. I was able to meet with the head of the engineering program at Whitworth on one of my visits and I really liked the engineering program that was offered. The school was the size I wanted, and the campus is nice. I know it will get cold at Whitworth, but I am excited to experience something different than Hawaii (and I have a big jacket, so I'll be ready!). I was able to watch Whitworth play online during almost every weekend during last year's season, and I also saw them play in person when I visited my sister at Pacific University last October. After watching them play a lot, it was a style that I really liked. The style of play involved a lot of passing and movement, with possession by the defenders to work it through the midfield, similar to what we play with the Bulls. I also really liked the coach, Morgan Cathey, I had established a good relationship with him over two years of recruiting. Unfortunately, Coach Morgan decided to a coaching position at another school, so we have a new coach this year, Jeremy Payne. Even with the coaching change, I really liked everything about Whitworth so was not going to change my choice because of the change in coach. I am really lucky that Coach Jeremy is also someone that I have been able to establish a relationship with since he was hired, and I am looking forward to playing for him as his previous school was very successful also played a style that I like.
How was your first week there?
There were a few things going on that affected my first week of school to make it different than I think it would have been. First, of course there is the pandemic, so we could not train like we would have otherwise. Before the pandemic, I was expecting to go into school early to stay with some of the upperclassmen in their off-campus housing so our captains could lead practices early before we started with our coach, but we could not do that. With our season being pushed off from the Fall to the Spring, we did not go into school early, we came in at the same time as all other students. When we got to school, we started with early morning conditioning, but then there were also some bad fires that affected the air quality, so training got pushed off. We are now back to training and that has been good. I am rooming with another soccer player from Hawaii, Liam McGehee who played at Mililani and for Rush. That might sound crazy since Liam and I have competed against each other for a long time in both high school and club, but we are getting along really well as roommates. My classes so far have been good, I have some in person classes and some online classes. I am getting along with my teammates; I had met many of them on my previous visits to Whitworth and they were welcoming from when I first met them and are still welcoming now.
How is soccer with the current situation?
Like I mentioned, our season was pushed back from the Fall to the Spring. We are allowed to train now, which I think will be good as it will give us more time to get to know each other. We have to wear masks at practice and other training. Our coach and our school as really emphasized to us to be smart and not do things that could expose us or our teammates. I have been doing my best to do that, which at times is hard because there is not much to do now aside from school and soccer right now, but I don't want to get sick or get anyone else sick so I am doing my best to avoid big gatherings or parties. With everything being shut down at home, I was just really happy to be able to train again and I don't want that to go away. I always knew I loved soccer, but it showed me even more when it was taken away for a while.
What does a normal day as a student athlete look like?
I have heavy class days on Monday, Wednesday, and Friday. On Tuesday and Thursday, my days are lighter so that is when I do a lot of my homework. I have early morning classes so I'm up early for those, but we also have training several days a week before the first classes start. Since our season got pushed back to the spring, this is now considered our off season, so we are lifting weights and conditioning more than during a normal year. We have regular trainings four times a week, conditioning twice a week, and lifting twice a week with Sundays always off. On the days we have training in the afternoon, I try to get as much schoolwork done as I can before practice. Sometimes by the time afternoon training is done, our regular dining hall is closed so I will get food from some of the later night places on campus that allow us to us our meal plan for food. Overall, my days are filled with soccer and class. I think once things get a little more back to normal, there will be more school activities open on campus and I am looking forward to that, so I think that will be a part of my normal activities hopefully soon. Spokane is also an interesting place with a nice downtown area and outdoors activities not too far from our campus, so I would like to experience some of that as well once things start to open up again.
What do you like the most about being a student athlete in college?
First off, I love playing soccer, so I am really happy to be able to continue to play in college. I did not think I would ever be able to play in college when I was younger, so I am really excited to be able to do so. The level of play and expectation has stepped up, so I am also excited about getting myself to be a better player to step up to that. Although college has been different because of the pandemic, I am enjoying the freedom to make my own decisions and taking responsibility for those decisions. I can't wait until things get a little more back to normal so I can experience more of what Whitworth and Spokane have to offer.
How did the Bulls help you?
The Bulls have done everything for me as far as my soccer development and have been involved in every step of the way in my soccer life. I started on the '02 team with Coach Kenji Treschuk, along with Coach Kenji's assistants Coach/Uncle Dan Moore and Coach/Uncle Rodney Lee when I was 9 years old. I was not very good at that time when I first joined the Bulls, but Coach Kenji believed in me and put me in at outside back when we played Rush in the championship game of President's Day Cup. Aside from state championship games in high school, that match had the most people and was the most exciting I ever played in. It seemed like the whole Bulls club was out there supporting us, and we beat Rush for the first time ever to be state champions and go to Surf Cup. That experience showed me that if I put in work and trusted my coaches, I could develop as a player. After that, Coach Craig Sullivan took us to Surf Cup and coached us through another President's Day Cup championship and Surf Cup the next year. Coach Kerry Miike had our team the next year, our first year playing 11 aside on the full-sized field, and we had another President's Day Cup championship and Surf Cup. Coach Mariano Belen took us to Denmark the following year to play in the Vildbjerg Cup, which was one of the best trips of my life. The age groups changed after this and I was able to play with both the '02 team with Coach Mael and the '01 team with Coach Majell. Coach Majell, along with Coach Qaylan Malama, took our '01 team to 3 State Cup championships, 3 Far West Regionals (2 quarterfinal and 1 semifinal finish), a US Club Nationals appearance, and 3 Surf Cups including a semifinal finish and Surf Cup championship. Coach Majell and Coach Q taught me a tremendous amount about the tactical aspects of soccer, things that I am carrying with me now into college. I would also like to really thank Coach Mael for everything he has done for the Bulls. In addition to coaching me when I had opportunities to play with the '02 team, Coach Mael provided me with a lot of guidance throughout my soccer career. Finally, I would also like to thank my teammates as we would not have accomplished anything if we ALL did not develop and put in the work together. I will always be thankful to have been able to have played with and been pushed by a talented group of players, almost all who are playing in college as well. We had a great group and accomplished a lot, but most of all my teammates were also some of my best friends and that is what made it very special.